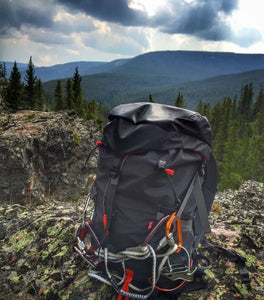 THE ALL-PURPOSE BACKPACK
If you are an adventure seeker as I am then you know the importance of having a backpack that can carry and protect all of the gadgets and equipment necessary for whatever situation you find yourself in. In Mountain Hardware's Scrambler™ 30 OutDry® Backpack, you will find a multifaceted pack that can be used for a wide variety of activities. From an everyday school bag, to spending a couple days in the backcountry, to a climbing bag for the wildest of adrenaline junkies, this backpack can meet all of your needs.This blog post seeks to highlight a couple of features found in this pack that has made it such a practical everyday bag for me.
My favorite feature found on this backpack is Mountain Hardware's OutDry™ waterproofing technology. They guarantee that water will not get into the main compartment from even the hardest of rainfall you may experience, and after using this bag I would stand behind that claim. I am a missionary in Slovakia, a country in central Europe. Living in Slovakia we experience all four seasons. Fall and Spring bring quite a bit of rain and during winter we have our fair share of snowfall as well. My primary mode of transportation here is a bicycle, as a result this bag has become my best friend. Whether I am going to get groceries through out the week, going to the gym, or taking a weekend trip, I can always count on my Srambler™ to keep everything dry inside. This March I spent a week in the mountains skiing, and I used this bag as a daypack on the slope. I carried my digital camera, a change of clothes, and my lunch everyday, and never worried about whether my stuff was getting wet.
That leads me to the next feature, its size. Some people might see that it is a 30L backpack and think that is too cumbersome of a bag to be an effective daypack. Mountain Hardware has left you with a lot of room for adjustment though. If you do not have much to carry you can really tighten the Srambler™ down with all of the straps they have placed on the bag, giving the feel that it is much smaller and out of your way. At the same time, if you want to pack it full and take it out into the wilderness for a couple days, it comes equipped with back suspension, padded shoulder straps, and a sternum and waist strap for added support and stability.
Living in Europe where pickpocketing is prevalent in many of the larger cities, one of my favorite features on this backpack is the limited number of pockets. Other than the main 30L compartment there is only one zippered pocket found on top of the bag, and two side pockets for water bottles, tentpoles, etc. For some that may seem like a bad feature, but for someone that spends much of their time on public transportation or walking in a large city it provides some peace of mind knowing that you do not have to be as worried about someone getting into your bag.
In short, this is a versatile backpack that can adapt to a number of needs. I would encourage you to come to Slimpickins Outfitters and check this product out along with all of their other gear as you prepare for your upcoming trips and adventures. See you at the campground, and always remember to #AdventureOut!
---