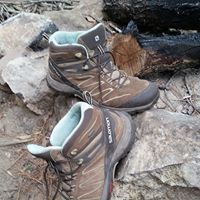 Ode to Salomon: A Tale of Two Shoesies
Three years ago I got a new job that required me to go camping, hiking, backpacking, and more, which was great, but that also meant I needed hiking boots. My old hiking boots had served me well but were literally falling apart and weren't going to do the job anymore. I wasn't looking forward to finding new boots because I wear a size 11 in women's and have narrow feet, which makes it challenging to find boots that are comfortable, fit my foot well, durable, waterproof, lightweight and not bulky.
In order to make things easier on myself, I did a lot of online shopping to see the most variety of styles and brands. After a rather arduous search, and reading numerous reviews, I settled on getting a high ankle boot, size 11, from a company called Salomon. I figured if they didn't work I could always send them back and keep looking. Luckily, for me, they ended up being my favorite boots I've ever had (and still have).
The reason I ended up purchasing the Salomon boots I have is because the weight was low for such a large shoe, they looked good (they have some mint green accents), the reviews were solid and the price was right! I have paid twice as much for hiking boots that lasted half as long as these have. Since purchasing the boots, my Salomon's have traveled to 22 State Parks in Texas, Arkansas, and New Mexico. They have hiked in Olympic, Big Bend, Carlsbad Caverns, Hot Springs and the Rocky Mountains National Parks, as well as explored Tent Rocks and Bandelier National Monuments in New Mexico. They've trekked through the Lone Star Trail while backpacking (in August) and have pushed through snow, rain, rivers, mountains, rocks, brush, blowdown and woods and have never been washed. If you saw them today you'd think they were brand new. The tread is still fully intact, the GoreTex is still waterproof, there is no separation of the sole from the shoe and even the laces show no wear on them. I have been so impressed with my boots that I tell everyone who is looking for boots to consider Salomon and, after seeing how well they perform, my husband has just purchased his first pair of Salomon's (from SPO).
When I found out that SlimPickins Outfitters was getting Salomon hiking boots in I couldn't have been more excited! I love my Salomon's so much and I promise they will not disappoint with how lightweight, durable and easy to break in they are. Come to SlimPickins Outfitters and I encourage anyone looking for hiking boots to pop in and give them a try!! See you there!
---