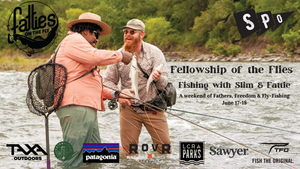 Fellowship of The Flies: A Weekend of Fly Fishing, Fatherhood, and Freedom
Fatherhood. Fly Fishing. Juneteenth. All important things around these parts. When we found out that National Fishing Day, Father's Day, and Juneteenth fell on the same weekend, it was pretty much a no brainer. We called Ben from Fatties on the Fly and he was in, so we hit the ground running. We wanted to celebrate some of the things important to us and we had some pretty cool folks come along with us! 
We kicked off the weekend Friday evening with a Meat & Greet and Film Screening of Everybody Outside: A Devil's River Journey. It was a steamy 102 but folks still came out to fellowship. Special appearances were made by our pal Will from Taxa Outdoors with a brand new Cricket, craft sodas from Dublin Bottling Works, coffee from TJ with Whiskey Morning Coffee, Katy from LCRA Parks, and delicious canned vodka sodas from our event partners, All Hands Cocktails in Houston. We dined like (Texas) royalty enjoying brisket, smoked sausage, beans, homemade barbecue sauce, and the star of the show, a creation of chef Trey Schur, Cowboy Potato Salad. A true delicacy. But he's our chef, so don't even ask if you can have him. Also he's family. So even if you can double what we're paying him, and I'm sure you can, we still have the upper hand. 
The film, was well received and we even had 4 members of the documented trip in attendance. We viewed the film on a TV donated for the event by Gifford's TV Electronics.
The next morning commenced with beignets from Black-owned bakery Strawn Cakes and Bakes, coffee from Whiskey Morning, and the guide services from Ben and Fatties on the Fly. Y'all may not have heard, it's boiling hot down here in Texas, which caused a little shuffling and moving around but Ben led us in the right direction and fish were caught and released and kept wet! 
We ended the day with a late lunch at Village Bistro in Pecan Plantation. 
It is with huge thanks to our sponsors and partners that this weekend was possible. Taxa Outdoors, Stewards of the Wild, Patagonia Fly Fish, ROVR Products, Lower Colorado River Authority Parks, Sawyer Products, Temple Fork Outfitters, and Osprey. Products for meals and door prizes were provided by Rumpl, Whiskey Morning Coffee, All Hands Cocktails, Patagonia & Dublin Bottling Works.
---