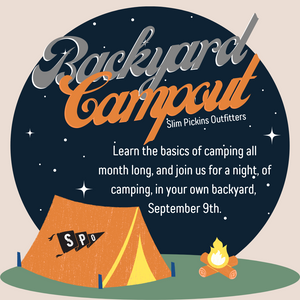 Backyard Campout Series: Skin Protection and Insect Repellent
One thing we (The Dawes) have never been shy about, is that we are still learning (and are always willing to). While we both have had an outdoor background in our lives, we haven't always focused on protection from the sun OR insect prevention. Once we had our boys, we were on the hunt for 1) safe and 2) effective products to use and to keep in our packs for hiking, neighborhood walks, but also just for backyard hangs. 
Our relationship with Sawyer helped fill in all of those gaps for us. 
I don't know if you've heard, but mosquitoes in Central Texas are NO JOKE. At certain times of the year you can't even walk from your house to the car without getting mosquito bites and that is truly not an exaggeration. A huge frustration for us is that we like to take our boys for walks in the evenings and often times in the summer that's the only time the temperature allows, but that's also the time the mosquitoes are the most active. 
Our miracle product came in the form of Sawyer Permethrin Fabric Spray. 
We sprayed it all over the stroller and let it dry. Once we put the kids in and went for a walk we were protected! As new parents we were always worried about exposing the boys to something unsafe but that isn't a concern with this gear spray! It is: 
Harmless and Safe 
Odorless
Not broken down by sweat, rain or water contact
Lasts for 6 weeks or 6 washes
Only broken down by UV exposure or heavy agitation from a washing machine
The spray worked so well on our stroller we started using it for our child carrier, our packs while hiking, and also spraying on our shoes and socks. And our favorite feature is that it is SAFE TO USE DIRECTLY ON DOGS. Bill Murray the Basset Hound is happy about that one, too. 
This gear has been such a favorite in the Dawes household that it even accompanied Jahmicah on his trip to Alaska for the filming of the Blackwaters Expedition. If the Texas mosquitoes are no joke the Alaska mosquitoes are an abomination and the spray was, according to Jahmicah, "a game changer". 
Another household favorite is the Picaridin repellent. For the kids I prefer the lotion, which is effective for 14 hours. The first time we took Silas to Arkansas for a "glamping" experience (very, very heavy on the glamping) we found a tick on him. We were so nervous and anxious! Since using the Picaridin lotion we have not found any! The best part is that the Picaridin lotion is safe for 6 months old and even while pregnant! 
Two more products we love are the Stay Put Sunscreen and The Extractor. 
The Stay Put Sunscreen has accompanied us on camping trips, fly fishing adventures, day hikes, state parks, the backyard watching the kids play in the sprinkler and to the beach. It's comfortable on the skin and not greasy. 
The Extractor is an absolute must for us! Our oldest is allergic to mosquitoes and his bites get huge knots and are painful. Having The Extractor helps us reduce his reaction right at the time of the bite! 
The great thing about these products is that of course they are useful on a large scale, out in the back country, but also on a smaller scale when you're just getting your family into the outdoors. You can use them while camping in your backyard and just a few miles from the house. Sawyer is truly "More Than An Outdoor Company" and their products are helpful for every sort of adventure. 
To sign up for information or to join us on our Backyard Campout click HERE! Signing up enters you for a chance to win a prize pack from Sawyer as well as other goodies. 
---